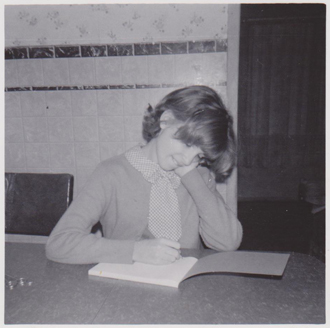 12 year old Darlene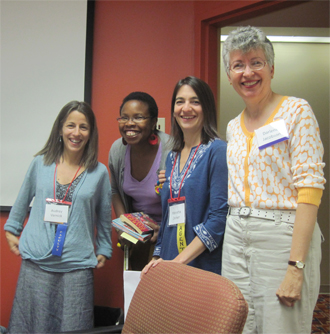 Darlene with Authors Audrey Vernick, Olugbemisola Perkovich, and Agent Marietta Zacker at the NJSCBWI Conference in June 2011.




Darlene with writer friend Leeza Hernandez

Darlene@DarleneBeckJacobson.com
.
Darlene Beck Jacobson has loved writing since she was a girl. "I wrote letters to everyone I knew and made up stories in my head. I even sent letters to pop stars of the day professing my adoration. Unfortunately, they never wrote back. Now, I'm lucky enough to have some of my stories published," Darlene says.

As a freelance writer and children's book author, Darlene's stories have appeared in CICADA, CRICKET, and other magazines. As a teacher and speech therapist working with Preschool and Kindergarten aged children, Darlene has many opportunities for story ideas. Working with young children allows her the freedom to be as silly as she wants to an appreciative audience of 3-6 year olds. "I can walk into the classroom wearing a chicken hat and still get hugs," Darlene says.

Darlene is torn between this silliness and a more serious side. Many of her works explore how family and history converge through children's eyes. One such project is a Middle Grade book of historical fiction set in 1909 in Washington, DC when Theodore Roosevelt was President. This story, titled WHEELS OF CHANGE, involves a young girl's attempt to save the family business, leading her on an adventure and a meeting with the President. It was sold to Creston Books and will be out in 2014. Darlene is represented by Liza Fleissig of the Liza Royce Literary Agency.

Darlene's historical MG novel-in-progress, A SPARROW IN THE HAND, explores the coming of age of two sisters growing up in the coal mining area of Pennsylvania during the 1920's. A chapter from this novel appeared in the March 2001 issue of CRICKET Magazine.

Darlene Beck Jacobson also enjoys creating scrapbooks about her travels throughout the US, Europe and Australia. She finds inspiration in exploring parks and wildlife areas. She crochets, bakes, and does crazy quilting when she needs a break from writing. Beck Jacobson is a member of the Society of Children's Book Writers and Illustrators, and attends many writing conferences sponsored by the New Jersey Chapter.

Darlene lives and writes her children's stories in New Jersey with her family and a house full of dustbunnies.